Upcoming Trainings, Retreats & Workshops
 in League City & Houston

For information about our group yoga and meditation classes, as well as private one-one-one classes, check out our Yoga & Meditation page for details.
PAST LIFE REGRESSION RETREAT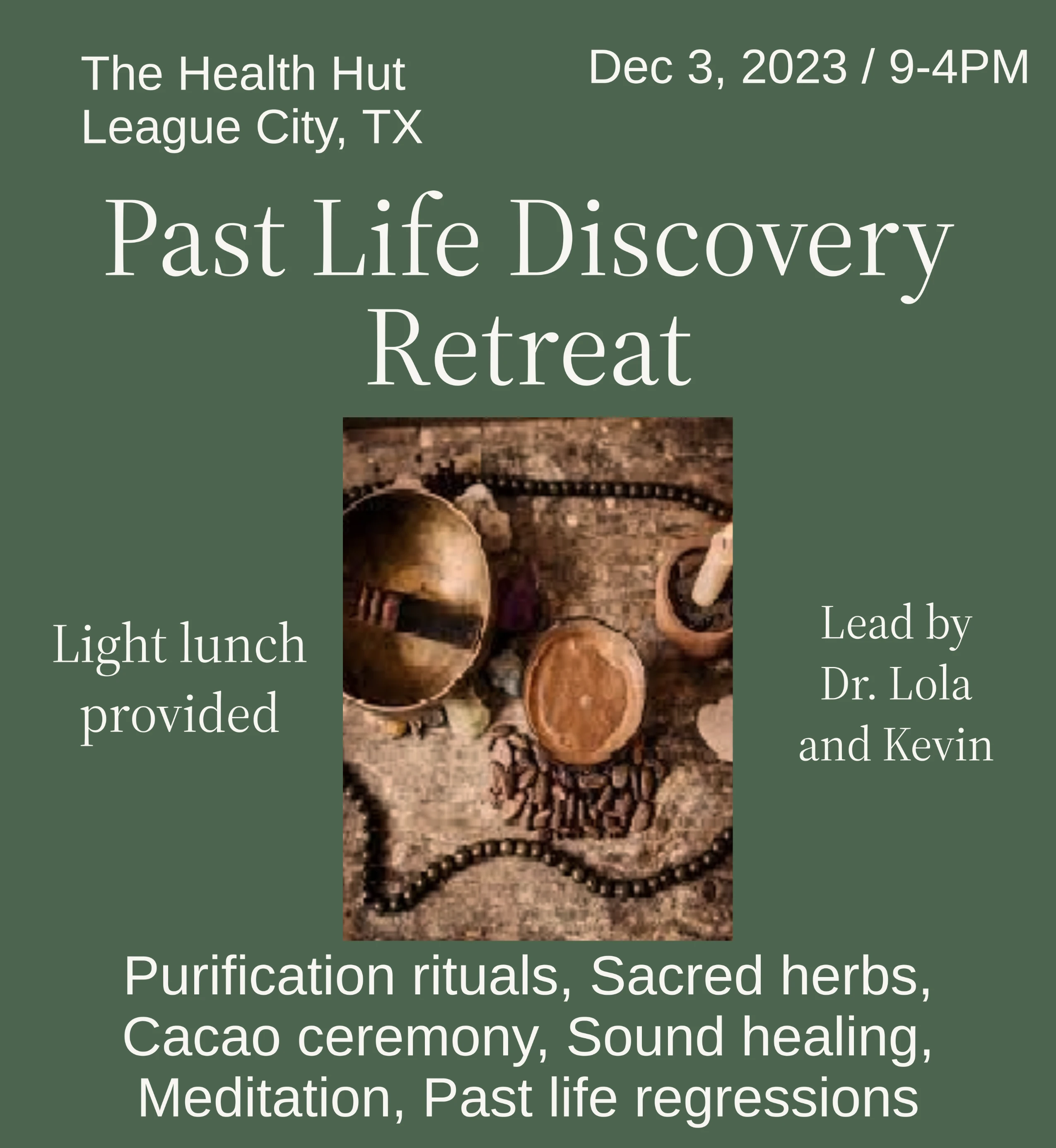 What you are today is the sum total of your 'past', which not only includes your past from the present lifetime but perhaps those from your previous lifetimes as well. The memories and impressions, of each and every moment your past, are stored in your subconscious mind which shapes your personality.
This very intensive workshop on soul-journey and self-discovery is very useful for individuals:
Who are interested in finding out their life-purpose and blueprint, and acquiring useful insights that would help them in manifesting their highest potential.

Who are looking for Inner Transformation and Spiritual Growth by discovering their true selves completely.
Principle
The psyche of every individual consists of four layers – the Physical, the Emotional, the Mental, and the Spiritual. It is not possible for any human being to exist if even one of these aspects is missing. Every incident or situation that the psyche encounters (in all lifetimes) leaves an indelible impression on all the aspects of the psyche.

Behaviors we have and patterns in our lives that repeat themselves that we cannot understand may be early childhood or past life energy blocks in the psyche. Deep-seated subconscious trauma may cause some of the unexplainable problems we face in this lifetime. Doing this work may help us overcome issues we have struggled with for a long time.

There is an old saying - "To re-live is to relieve". Once a traumatic or unpleasant situation is relived during the regression, it results in greater understanding at deeper levels of the psyche. Therefore, once the buried trauma is brought to the conscious awareness through regression, the problems start clearing up automatically and naturally.

Past-life-regression works on the principle of cause and effect and helps in clearing up the effects by addressing the root causes. By going to a root cause and understanding how it has affected the present, profound natural healing takes place automatically. According to this principle; when the effect is forced back to the cause, the effect vanishes.

Past-life-regression works simultaneously on Body, Mind, Emotions, and Spirit. It heals at all levels.
ENERGY MASTERY AND
REIKI TRAINING & ATTUNEMENTS BEGIN MARCH 2, 2024
Reiki Level I: Saturday March 2 and Sunday March 3, 2023 / 9-4pm
Reiki Level II: Saturday April 6 and Sunday April 7 / 9-4pm
Reiki Level II: Saturday May 4 and Sunday May 5 / 9-4pm
Register and pay on Reiki Training page